There have been a number of record low mortgage rates this year. Ever since the Federal Reserve took emergency action in response to the Coronavirus pandemic and cut the federal funds rate to nearly zero, average rates have fluctuated but largely stayed historically low. In response, many homeowners have been considering a mortgage refinance. Whether you simply want to take advantage of lower rates or convert some of your equity to cash, now may be the best time to do it. First, let's learn more about mortgage refinancing and compare the pros and cons to help you make an informed decision. Want to discuss your specific situation? Contact our home loan experts at 800.421.7111.
What is refinancing?­
All types of debt can be refinanced. When you refinance your mortgage, you simply apply for a new home loan to replace (pay off) the old one. The primary reason for refinancing is to secure better loan terms, in particular a lower interest rate.
What to know before you apply for a mortgage refinance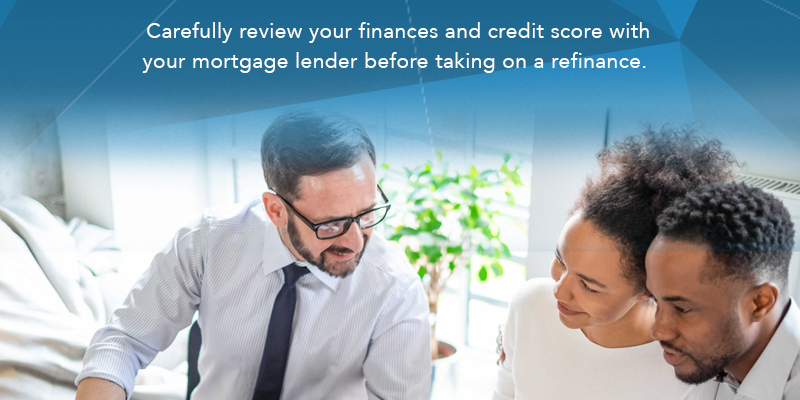 Before you rush to refinance, take a minute to review your finances and credit score. Generally, you'll need good-to-excellent credit and at least 20% equity in your current home. If you want to borrow more than your current mortgage balance, you'll need proof of sufficient income to repay the loan. Not sure if you're in a strong position to apply for refinancing? Talk to your mortgage lender; we can help you assess your current situation.
What are the costs of refinancing?
Because you're taking out a new mortgage, you'll have to pay some or all of the same costs associated with your original mortgage. For example:
Application fee for the cost of loan processing and credit checks
Origination fee for loan preparation
Appraisal fee for the assessment of your home's market value
Closing costs cover a variety of expenses, which will be itemized on your closing cost worksheet.
The costs of refinancing can be exceeded by the savings on the interest you would have paid–if you plan to stay in the house long enough for that to happen. Use our mortgage calculators to compare different loan scenarios.
5 reasons to refinance
While lowering your interest rate may be the main motivator for many homeowners, it's not the only type of refinance.
Cash-out refinance: Borrow more than you currently owe to get cash back for renovations, debt consolidation, or other reasons.
Change loan term: Switch to a shorter term to pay your mortgage off faster, or a longer-term to lower your monthly payment.
Lock in a low rate: When average rates fall to historic lows, many homeowners want to "lock-in" the low rate before they start to rise again.
Switch loan type: It's popular to sign up for an adjustable-rate mortgage (ARM) to take advantage of introductory rates, then switch to a fixed-rate loan to lock in a low rate and enjoy consistent monthly payment amounts.
Dump your PMI: Private mortgage insurance (PMI) is generally required on FHA loans as well as conventional mortgages with less than 20% equity. So you could refinance from an FHA to a different loan type, and/or "bring money to the table" to get your mortgage principal below that 20% threshold.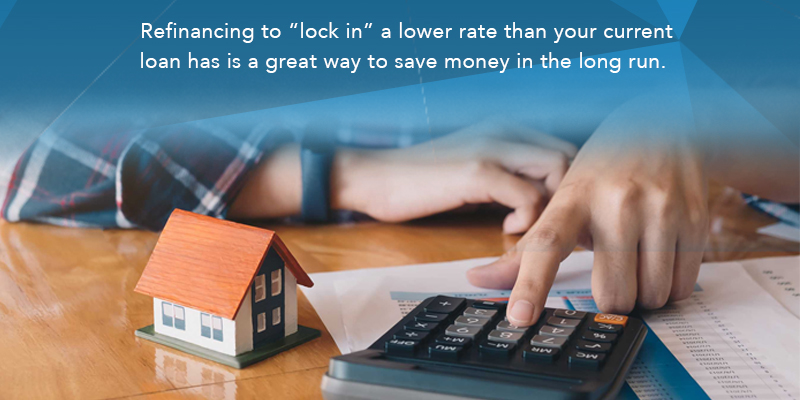 What are the advantages of refinancing?
Figure out what you hope to gain from refinancing by reviewing these potential benefits:
Lower your monthly mortgage payment. There are several ways to accomplish this including a longer term, lower interest rate, and/or eliminating PMI.
Pay less in interest over the life of your loan. If you plan to stay in your home long enough, your savings in interest could exceed the closing costs associated with the refinance.
Switch from an Adjustable Rate Mortgage (ARM). Depending on whether rates are rising or falling, you may want to change the terms of your loan from adjustable-rate to fixed or vice versa.
Convert equity into cash. Perhaps your home is in need of improvements and renovations, or you have another large expense to cover. Borrowing money from your home is much more affordable than other types of financing such as credit cards or unsecured personal loans.
Consolidate higher-interest debt. If you're drowning in credit card balances and other high-interest debt, a consolidation through mortgage refinance could reduce your monthly debt payments and save you money on interest.
What are the risks?
As with anything, potential benefits also come with potential downsides. However, you can avoid these refinancing risks by discussing your financial goals with your lender and carefully reviewing the new mortgage terms before you commit.
Not getting a lower interest rate: Depending on your credit score and other factors, you may not qualify for the low rates you heard about on the news.
Never breaking even: Getting a new mortgage means paying closing costs again. If you don't intend to stay in the house long enough, you may not reap enough savings on interest to at least break even on the expenses you incurred with refinancing.
Longer term: Consider your current term and how many years into it you are. Then take that into account when choosing a new loan term. For example, if you're 10 years into a 30-year term and refinance for another 30-year term, you'll end up paying interest for a total of 40 years.
Higher payment amount: If you do a cash-out refinance, your loan principal will be higher, which might lead to higher monthly payments. Again, if you do a cash-out refinance to consolidate debt, you could still save money overall. Just make sure you can afford a higher mortgage payment if you're using the cash out for renovations or other expenses.
Prepayment penalties: Make sure you won't incur a fee for paying off your existing mortgage early.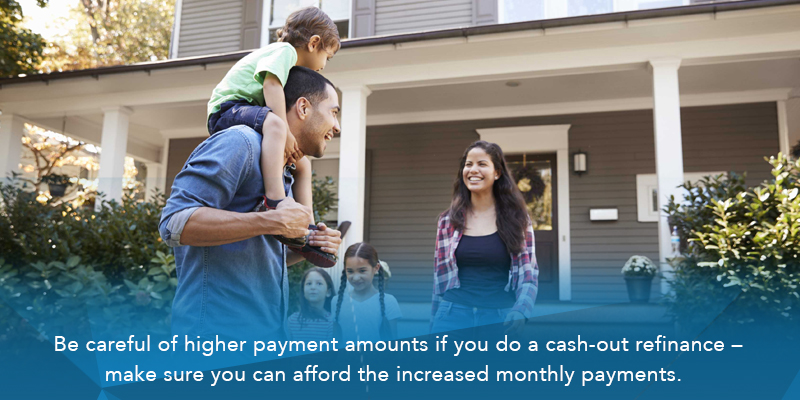 Get started with a mortgage refinance today!
Looking for a better deal on your mortgage? Learn more about refinancing your current home with SkyOne. Become a member, apply online or give us a call at 800.421.7111. Let us help you find your financial peace of mind!