U.S. house prices rose 12.6% from Q1 2020 to Q1 2021, according to the Federal Housing Finance Agency House Price Index. Rising real estate values have brought increased demand for jumbo loans, especially in expensive metro areas such as Southern California and the San Francisco Bay area. If you are buying a home in one of these higher-priced places, you may be wondering if a jumbo loan is right for you. In this guide, we'll share everything you need to know about jumbo loan mortgages.
What Are Jumbo Loans?
Jumbo loans are also known as non-conforming loans. Non-conforming loans are high value mortgage loans that fall outside the jurisdiction of government loan providers like Fannie Mae and Freddie Mac. Non-conforming loans are typically offered by private financial lenders and credit unions A jumbo loan is a mortgage that has a higher balance than the conforming loan limit for the county you're buying or refinancing a home in. In most counties, the conforming loan limit is $548,250. In some higher-cost markets, it can go up to $822,375.
Because jumbo loans are riskier for lenders to make, they usually require a very good credit score, a larger down payment amount, and a certain amount of personal cash reserves.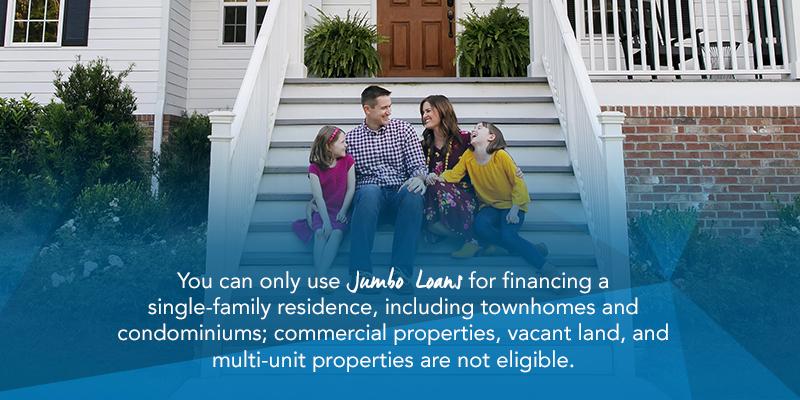 Therefore, jumbo loans are usually best for buyers with a strong financial foundation and/or a high income. However, some real estate markets are so "hot" that a jumbo loan may be the only option for buying a home. The pandemic has only boosted home prices in already high-priced areas.
It's important to note that jumbo mortgages cannot be handled by (Federal Home Loan Mortgage Corporation), the two-government chartered lenders, so your jumbo loan will be kept on your lender's own books.
What Are the Requirements to Get a Jumbo Loan?
Wondering if a jumbo loan is right for you? Review the most common requirements and features:
A credit score of at least 680, with higher scores more desirable
Max debt to income ratio should be 38% to 43%
The minimum down payment amount should be between 10% to 30%
Need to provide financial documents to verify your income and employment history
May require additional financial documentation such as tax returns
Should typically have 6 to 18 months of mortgage payments prepared in cash reserves
May require a second appraisal
A desirable perk of no mortgage insurance requirement
Available only for single-family residential housing that includes regular houses, townhomes, and condominiums. Multi-unit, vacant land, and commercial properties are not eligible for jumbo loans.
Expect more back and forth and a longer application process with a jumbo loan since they need to be manually underwritten, which can make the process more complicated and tedious.

What to Know About Jumbo Loans in California
As of 2021, $548,250 is the baseline conforming loan limit for single-family homes in the U.S. set by the Federal Housing Finance Administration (FHFA). This means that's also the limit to how much you can borrow with conventional mortgage loans. If you want to borrow more than that, you're looking at a jumbo loan. However, the FHFA also sets individual limits for counties where the median home price exceeds the national baseline. In California, those counties are:
Contra Costa: $822,375
El Dorado: $598,000
Los Angeles: $822,375
Marin: $822,375
Monterey: $739,450
Napa: $816,500
Orange: $822,375
Placer: $598,000
Sacramento: $598,000
San Benito: $822,375
San Diego: $753,250
San Francisco: $822,375
San Luis Obispo: $701,500
San Mateo: $822,375
Santa Barbara: $660,100
Santa Clara: $822,375
Santa Cruz: $822,375
Solano: $550,850
Sonoma: $707,250
Ventura: $739,450
Yolo: $598,000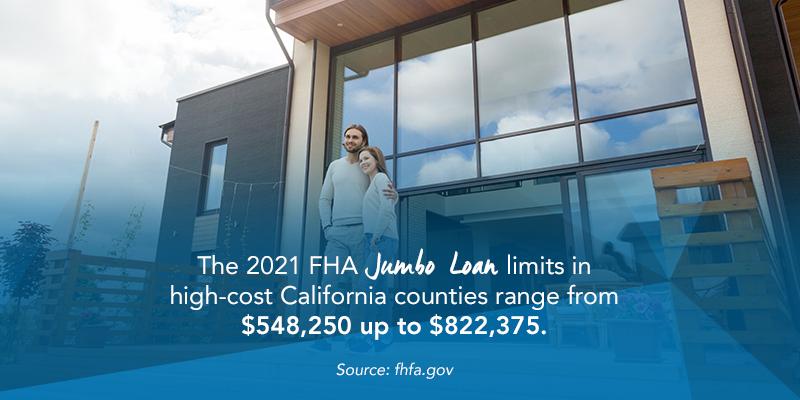 Learn more about jumbo loan limits by clicking here.
As you can see, county limits above the baseline range up to the ceiling of $822,375. If you want to borrow more than the limit in your county, you'll need to apply for a jumbo loan.
FHA Mortgage limits also have a ceiling of $822,375. You can search here for specific FHA loan limits in your county.
However, one notable exception is the VA Loan program. In 2019, the Blue Water Navy Vietnam Veterans Act was passed, which means that VA-guaranteed home loans will no longer be limited to the FHFA's Conforming Loan Limits. If you are an eligible veteran or servicemember, you can obtain a no-down payment home loan anywhere, regardless of loan amount. VA loans are still subject to credit approval, just like any other loan.
Jumbo Loan FAQs
Still have questions about jumbo loans? We have answers!
What is a high balance or "high-cost" county loan limit?
Each year, the FHFA publishes its conforming loan limits for all conventional mortgages delivered to Fannie Mae. High-cost areas are those counties in which the loan limit is higher than the national baseline, as with the California counties listed above.
Can I refinance a jumbo loan?
The short answer is yes, depending on credit approval. If interest rates have gone down significantly since you first obtained your loan, or if you now have enough equity in your home to refinance into a conventional mortgage, talk to us about refinancing your jumbo loan.
Where can I get a jumbo loan?
Many traditional mortgage lenders, such as banks and credit unions like SkyOne, offer jumbo loans.
When does it make sense to get a jumbo loan?
Jumbo loans are typically used by high-income homebuyers who live in expensive real estate markets such as San Francisco, Los Angeles, Seattle, and New York City. Depending on how much you can put down, you may not be able to use a conventional mortgage to finance your home purchase. In that case, a jumbo loan is a good idea if you can qualify and afford it.
How do jumbo loans work?
You can apply online for a jumbo loan mortgage. As mentioned above, the underwriting process can be stricter and a bit lengthier than with conventional loans, but generally the process is the same.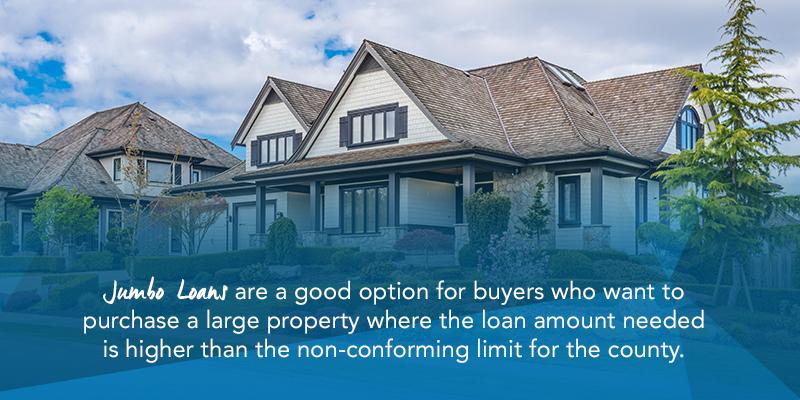 Learn more about jumbo loans from SkyOne!
Ready to apply for a jumbo loan? Browse our jumbo mortgage rates, contact us with questions, or apply online today! Not sure if a jumbo loan is right for you? We offer several mortgage loan types to help you get settled in faster with a rate you'll love. Whether you want to buy, build, or refinance, we'll find you a solution. Apply today online or check your loan status if you've already filled out an application!