If you're in the market for a new vehicle, you may need to apply for an auto loan. For many people, financing a vehicle purchase can be stressful and confusing. In this article, we'll help you understand the difference between getting pre-qualified vs. pre-approved, and explain the benefits of getting pre-approved for an auto loan before you go car shopping.
Pre-Qualified vs. Pre-Approved: What's The Difference?
If you've got a mortgage loan before, you may already be familiar with the concept of getting pre-approved for a loan. In short, it lets you know how much you could be approved to borrow so that you can narrow your search and budget accordingly. Just as you can get pre-approved or pre-qualified for a home loan, it's the same with auto loans.
The terms "pre-approval" and "pre-qualification" are sometimes used interchangeably, but there are some essential differences between the two. Here's what you need to know:
Pre-Qualified: This is a "soft" credit pull, which means the inquiry won't impact your credit score. A soft pull still allows your lender to review your credit history and the basic financial information you provide, such as monthly income and bills. Your lender will "pre-qualify" you for a certain loan amount and interest rate based on that information. Those figures could change slightly during the complete underwriting process but getting pre-qualified gives you a ballpark spending limit without affecting your credit score.
Pre-Approved: Requires a "hard" credit check, which will appear on your credit report as a new inquiry and may temporarily lower your credit score by a few points. However, a pre-approval is more reliable regarding the loan amount and interest rate you can get. It also makes it easier to complete your application when you're ready, as some of the steps have already been completed.
Benefits of Getting Pre-Approved for a Car Loan
As you can see, a pre-qualification doesn't carry as much weight, so while it may be helpful for someone who isn't ready to apply for a loan yet, a pre-approval is a better option for the serious buyer. The benefits of getting pre-approved for your auto loan include:
Know ahead of time what you can afford to spend on a vehicle. You'll know the amount your loan for approved financing so you can make sure you stay under that amount.
Narrows your options before you even get to the dealership by knowing your max budget.
Gives you time to look around and compare auto loan rates to find the best offer.
Helps you avoid upsells and add-ons that you don't need. Dealers try to sell you add-ons at the financing desk, which can significantly increase your monthly payments. Getting pre-approved ahead of time will let you know what your car payment will be.
Going into the dealership with your confirmed interest rate locked in gives you more negotiating power. The dealer will want to offer you their financing. However, if you already have a great rate, they might be more inclined to beat it, saving you money in the long run.
You get to shop like a cash buyer – the overall purchase price and the interest rate are what's most important. Monthly payments and term length can be easily manipulated to what you want. Just remember that the longer the term, the more you'll pay in interest over the life of the loan. So focus on staying within your budget. Under no circumstances allow the dealer to ask "what kind of monthly payment are you looking for?"
Getting pre-approved before finding your car simplifies the buying process and makes it easier for you to buy at the location or dealer of your choosing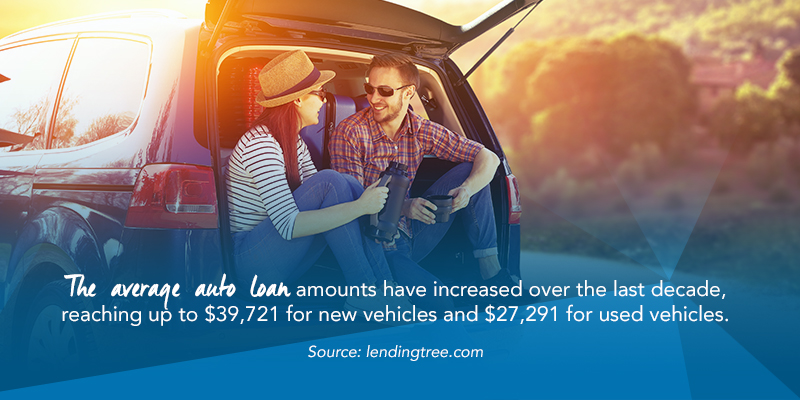 How to Get Pre-Approved for New & Used Car Loans
Sometimes your current vehicle breaks down unexpectedly or is totaled in an accident, leading you to need a new vehicle right away. However, if you have more time, get your ducks in a row before getting pre-approved for your car loan.
Check your credit report. Under federal law, you can obtain free copies of your credit report here. Make sure there are no errors or signs of identity theft. You'll need to resolve those issues before applying for a new loan if there are.
Check your credit score. Do you know what range your current credit score falls into? Credit Karma is a great free source to access your score. Also, you can pay for a score report from FICO or any of the major credit reporting agencies. The higher your credit score, the better the interest rate you can qualify. So, you may want to work on raising your score before getting pre-approved if your score isn't where you want it to be.
Get organized. Ensure you have all the necessary documents and paperwork for your auto loan application. When getting a pre-approval for a loan, you'll usually need the following: social security card/number, government-issued ID, proof of employment status, and income.
Find a lender. SkyOne offers great rates and world-class service. On average, our rates are far lower than banks and online lenders. According to Nerd Wallet: The average auto loan rate is 3.86% for new cars and 8.21% for used cars. Click here and click the "Rates and Calculator" tab to view our rates. The lower the loan rate, the more you'll save on interest over time.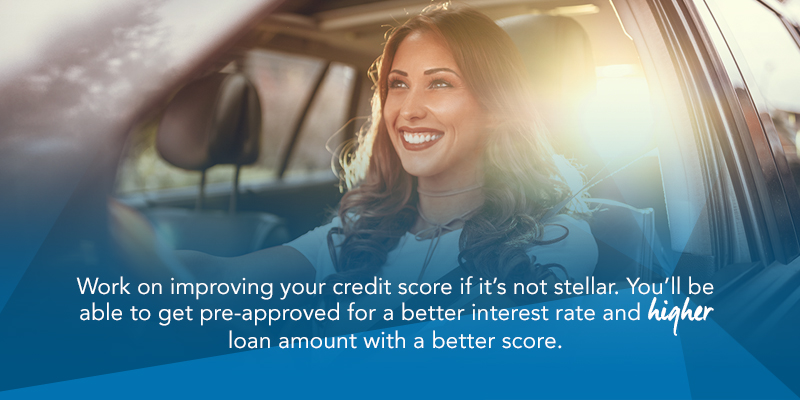 So, Should I Get Pre-Approved Before Finding the Vehicle I Want to Purchase?
The short answer is yes, getting pre-approved for a vehicle loan before finding your next ride will help you shop with clarity and confidence, knowing you got the best rate and terms possible. When you get pre-approved with SkyOne, you can enjoy a new and effortless car buying service experience. Also, our car buying program, powered by TrueCar, saves you time and money with upfront, discounted price offers, a large inventory of pre-owned vehicles, free CARFAX reports, and more. Lock in a low auto loan rate and find your car today!
Do you want to know how to fix your credit? Check out our blog article on A Crash Course on Fixing Your Credit