Although personal credit cards have been around for years, the industry was no exception to changes triggered by the Coronavirus pandemic this year. Here at SkyOne, we introduced a brand new card, the Platinum Elite Visa® Signature card. Whether you're just starting out and looking for your first credit card or evaluating your finances and looking to upgrade your credit card, this guide offers everything you need to know to make the best decision for you!
General Requirements to Get a Credit Card
In the wake of the 2008 financial crisis, legislation passed by Congress imposed more stringent requirements on banks and credit card companies to vet applicants. While these regulations are intended to protect consumers, they may also make it harder to get a credit card depending on your age and financial situation. Here's what you need to know:
The CARD Act of 2009 stipulates that card issuers must "consider the ability of the consumer to make the required payments." That's why you'll need to share your employment status and annual income on a credit card application.
Within the same legislation, there is a section dedicated to the "Protection of Young Consumers" that lays out certain standards credit card applicants must meet if they are under 21. Options for getting a credit card under age 21 include:

Having a cosigner, such as a parent, legal guardian, spouse, or another person over the age of 21, who can demonstrate an ability to repay any debts and assume joint liability.
Demonstrating your ability to repay by submitting proof of your independent means with your application.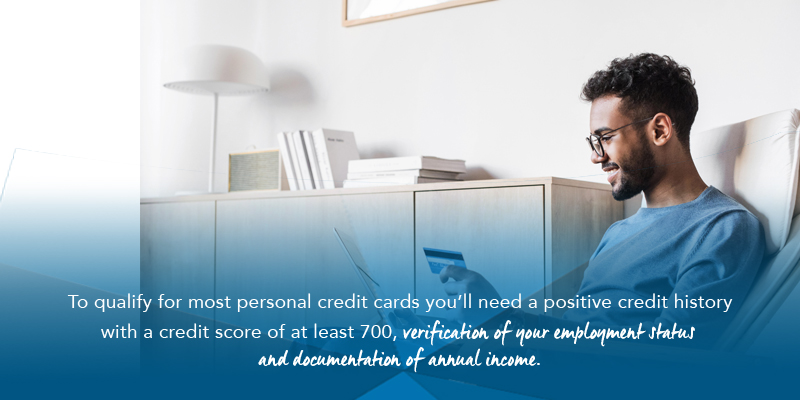 Beyond these age-specific requirements, anyone applying for a credit card will need to provide the following information:
Social Security Number: Required to verify your identity and check your credit history with a national credit bureau.
Home Address: Must be a street address, not a P.O. box. You'll also need to share your residence type and monthly rent or mortgage payment.
Employment Status: Federal law requires credit card companies to collect information about your ability to repay your credit card debt. Choose between Employed, Retired, Self-Employed, Homemaker, Unemployed, or Never Employed.
Gross Annual Salary/Wages and Other Income: What you earn or reasonably expect to earn from your job and any other income sources such as rental properties, social security, disability, retirement benefits, or interest and dividends. Applicants age 21 and older can include income from a spouse or other household member if it helps pay your bills.
Credit Score: In most cases, you'll need a positive credit history and score of at least 700. If you don't have a credit history yet or want to rebuild your credit, you may be able to get a secured credit card (a savings account is used as collateral) or a first-time cardholder option.
Additional requirements may vary by the card issuer.
Types of Credit Cards & How to Use Them
What type of credit card is best for your needs and goals? Learn about your options below.
Standard Credit Cards: Also known as "plain-vanilla" credit cards, these usually don't come with rewards or other frills, but usually have easy-to-understand terms and offerings. Standard credit cards can be a good option for a first credit card or a way to build or rebuild credit.
Balance Transfer Credit Cards: This type of card offers a low or zero introductory rate on balance transfers for a specific period of time, such as one year. This card can help you pay off debt from another card faster, as long as you have a plan and don't use it for new charges. There is usually also a transfer fee, either a fixed rate or a percentage of the balance you transfer.
Rewards Credit Cards: Choose between cashback rewards, points, or travel rewards such as airline miles. If you use a rewards credit card and don't carry a balance, you may be able to earn more in rewards than you spend. Some rewards cards may also carry an annual fee.
Secured Credit Cards: As mentioned earlier, a secured card is a good option if you don't have a credit history or have a less-than-perfect credit score/history. You may have to use a separate savings account as collateral or make a specific security deposit.
Store Cards: Many retail stores and gas station chains have their own branded credit card. They usually offer an upfront reward, such as a discount on your first purchase, and/or an ongoing rewards program to entice you to apply for a credit card. Remember that the number of accounts you open impacts your credit score, so be careful about how many store cards you apply for.
Business Credit Cards – Designed specifically for use by business owners and their employees. Offers an easy way to keep business and personal transactions separate. Depending on your length of time in business, you may need to use your personal credit score and financial situation to apply for a business card.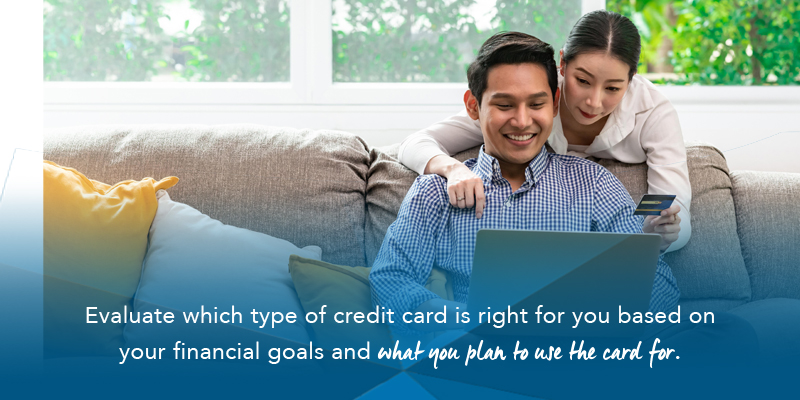 All About Rewards Credit Cards
Let's take a closer look at the three types of rewards cards.
Travel Rewards
Can be co-branded with an airline or hotel chain, which usually means rewards are only valid for that company.
If you don't have an exclusive relationship with one airline or hotel chain, it's best to get a general travel rewards card.
Earn points or miles to be used for travel-related expenses such as flights and hotels.
May offer a bonus to new cardholders who meet certain requirements.
May have an annual fee.
May also come with additional travel-related perks such as exemption from foreign transaction fees, hotel or airline perks such as a complimentary snack or free checked luggage, rental car insurance, and more.
Cash Rewards Credit Cards
Earn a certain percentage from each purchase.
May choose a specific category such as gas, groceries, or online shopping to earn double or triple rewards.
Cash rewards can be applied toward your statement balance or mailed as a check.
May offer a limited-time bonus rewards opportunity for new cardholders.
May have an annual fee.
May also offer additional perks such as purchase insurance, rental car insurance, and more.
Points Rewards Credit Cards
Generally, the most flexible type of rewards card.
Earn one point per dollar spent, with certain categories subject to a higher point value. For example, with the Platinum Rewards Visa card from SkyOne, you'll earn 1.5x rewards points on qualifying transactions for travel, restaurants, and bars.
Accumulated points can be redeemed for merchant gift or travel certificates, gift cards, merchandise, and more.
You may be able to gift points to other cardholders enrolled in the same program, such as with our SkyOne Platinum Rewards Visa card.
In general, the higher your credit score, the higher tier of rewards card you can qualify for. For example, SkyOne now offers the Platinum Elite Visa Signature card. Choose your favorite rewards categories and earn 30,000 bonus points after you spend $4,000 on purchases in the first three months from account opening.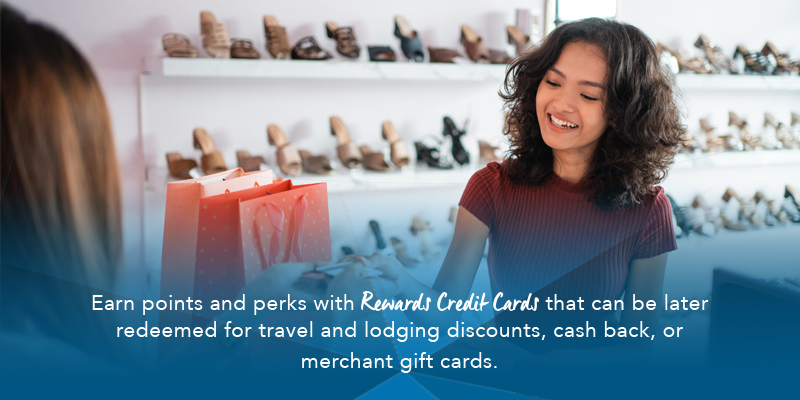 Best Practices for Personal Credit Card Use
A credit card can be a great tool that offers convenience, fraud protection, and the opportunity to earn rewards. However, if you don't use it correctly, a credit card can be a stick of dynamite that blows up your finances. Here's what you need to know:
The best practice is to charge no more than you can afford to pay back on the next statement due date. Otherwise, you'll be charged interest on any remaining balance.
Another best practice is to pay on time, even if you can only afford the minimum payment. That will at least help you avoid late payment fees and prevent damage to your credit score from late payments.
If you do need to carry a balance for whatever reason, try to limit your revolving balance to no more than 30% of your total credit limit. This is known as your "credit utilization" and percentages higher than 30% can have a negative impact on your credit score.
Read all the terms and conditions associated with a card before choosing the best option for you. For example, will you use it enough to make an annual fee worth it?
Review your monthly statements, whether you receive physical or digital copies. If you notice any errors or suspicious activities, contact your credit card issuer immediately.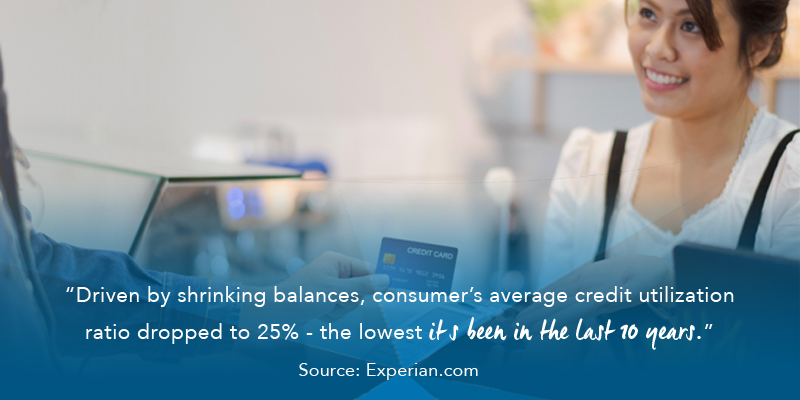 Apply now for a Platinum Elite Visa Signature credit card!
Looking for the best personal credit card to earn rewards? Check out our new Platinum Elite Visa Signature card, as well as our Platinum Rewards Visa card. Not a member yet? Join today! SkyOne Federal Credit Union has been proudly serving our members for 70 years. We are passionate about helping you build a strong financial foundation and offer a wide variety of products and services to help you thrive! Questions? Talk to an expert by calling 800.421.7111.