Let's face it. Your college-age son or daughter is not thinking about life insurance. And you probably aren't either. After all, you have holidays to plan, parental wisdom to impart, and college supplies to buy. However, now might be the perfect time to buy a life insurance policy on your child. It's smart, and a lot easier and cheaper than you might guess.
Times have changed. College tuition costs are high and the associated debt burden is tremendous for many graduates and parents alike. That's why you need a convertible ten- or fifteen-year-term life insurance policy on your child with a death benefit that sufficiently covers everyone's debt obligations, including co-signers.
Sure, it's improbable that the unthinkable will occur, but think about why we all buy life insurance. Just in case. Life insurance provides peace of mind and protects the people we love most from a significant financial loss at a time when they are least equipped to handle the stress of financial worries.
As a bonus, insuring a young, healthy person is inexpensive and a wise investment. Healthy people are also more likely to be insurable. Buying a policy now locks in your child's insurability for the term of the policy, or permanently, if the policy conversion option is later exercised. That's huge! Imagine guaranteed insurability for life (if premiums are paid) and at a favorable premium based on the insured's age at the time of conversion.
Finally, the best benefit of all comes after your child graduates and is financially self-sufficient. You can gift the policy to your child by transferring the ownership of the policy. As the new owner of the policy, your son or daughter can specify his or her own beneficiaries. Oh, and start paying the premiums.
Get the assistance of seasoned financial planning professional. As the CFS* Financial Advisor for SkyOne, Geoff Palenik can help you feel confident in those financial decisions affecting your loved ones.
Contact usfor more information on life insurance, or a complimentary review of your financial picture.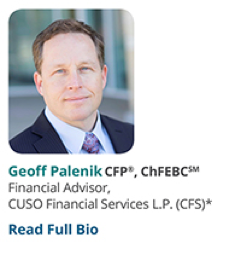 *Non-deposit investment products and services are offered through CUSO Financial Services, L.P. ("CFS"), a registered broker-dealer (Member FINRA/SIPC) and SEC Registered Investment Advisor. Products offered through CFS: are not NCUA/NCUSIF or otherwise federally insured, are not guarantees or obligations of the credit union, and may involve investment risk including possible loss of principal. Investment Representatives are registered through CFS. SkyOne Federal Credit Union has contracted with CFS to make non-deposit investment products and services available to credit union members.
CFP® and CERTIFIED FINANCIAL PLANNER™ are certification marks owned by the Certified Financial Planner Board of Standards, Inc. These marks are awarded to individuals who successfully complete the CFP Board's initial and ongoing certification requirements.
Federal Seminars and ChFEBCSM, Inc. owns the symbol marks ChFEBCSM, Chartered Federal Employee Benefits ConsultantSM and ChFEBCSM logo in the U.S., which it awards to individuals who successfully complete Federal Seminars and ChFEBCSM, Inc. initial and ongoing certification requirements.