As home prices in California and across the nation have soared recently, and interest rates have stayed low, many homeowners suddenly find themselves with more equity in their homes and are wondering what they can do with it. Whether you're looking to renovate your bathroom or kitchen, add an addition to your home, help pay for a child's education, or something else, we'll cover everything you need to know about home equity financing options in this article.
What is Home Equity?
To understand your home equity financing options, you need to understand the concept of equity, which is the difference between the appraised market value of your house and your current mortgage balance, as well as any other property liens on the home.
For example, if your property appraised for $200,000 and your remaining mortgage balance is $120,000, you have $80,000 in home equity.
It's important to understand that home equity isn't a fixed value. It can fluctuate if your local real estate market goes up or down. For example, real estate prices rose nationally in 2020 as the Covid-19 pandemic lowered inventory while driving demand. Here in California, the market shows no signs of cooling off. Southern California home prices hit a new record in June 2021 and San Francisco retains its title of "Most Expensive Real Estate Market" in the U.S. So, California homeowners may have seen increased equity over the last year or so even if their mortgage balances haven't gone down significantly.
Another important caveat is the difference between a professional appraisal and the market estimates provided by real estate websites. Checking your home's estimated value online can be a useful starting point, but your lender will send out a professional appraiser before offering you a HELOC or Home Equity Loan. The appraiser inspects your home inside and out to provide the most accurate value based on specific features in and out of your house as well as market comparisons in your area.
What is a Home Equity Loan?
Now that you understand what home equity is and how to estimate your own home's current value let's look at the two types of home equity financing, beginning with Home Equity Loans, also known as a second mortgage.
Term Loans
Home Equity Loans are considered term loans, which means you lock in a fixed interest rate when you apply for the loan, receive the principal in a lump sum after closing, and make regular monthly payments for a predetermined repayment period of up to 20 years.
Interest Rates
Because your house serves as collateral for the home equity loan, interest rates are lower than they would be on unsecured types of credit, such as personal loans and credit cards. You can find SkyOne's current Home Equity Loan rates here.
Closing Costs
Home Equity Loans are called second mortgages for various reasons, including the fact that they come with many of the same closing costs as your original mortgage. You may be able to roll your closing costs into your loan principal, but either way, be prepared to pay about 2-5% of your loan amount in closing costs and other fees.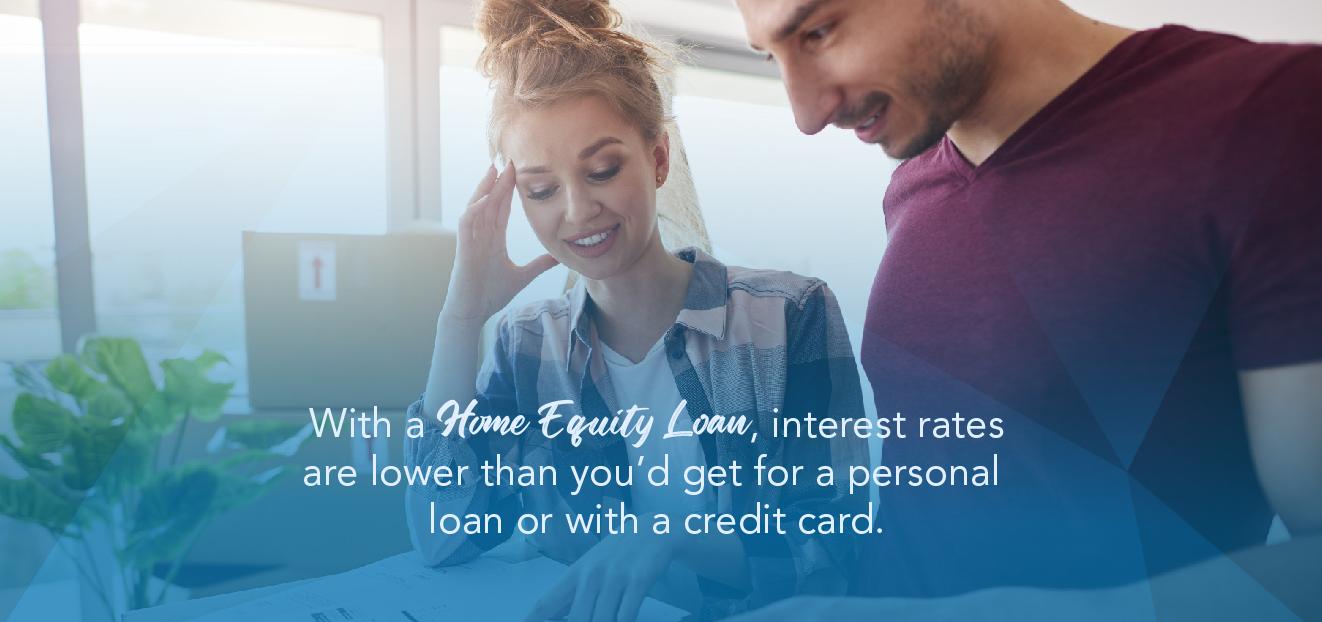 What is a HELOC (Home Equity Line of Credit)?
Whereas a Home Equity Loan offers a lump sum payment and fixed repayment term, a HELOC is a revolving line of credit more similar to a credit card than your original mortgage.
Revolving Credit Account
As with a credit card or other lines of credit, HELOCs come with a borrowing limit, and you don't owe anything until you use the account. This is why opening a HELOC can be a good idea, even if you have no plans to use it right away. With a lower interest rate than a credit card, you can use your HELOC in an emergency instead.
Draw Period
Instead of a term, HELOCs have a draw period of a certain number of years in which you can withdraw funds, make payments, and use the line as much as you want up to the credit limit. After the draw period, any remaining balance gets converted to a term loan.
Interest Rate
Unlike a Home Equity Loan, HELOCs usually have a variable interest rate that can change throughout the draw period. You can find SkyOne's current HELOC rates here.
Closing Costs
HELOCs tend to have lower closing costs than primary and secondary mortgages, but they do still have some loan fees. There may also be a fee for closing the HELOC before the end of the draw period.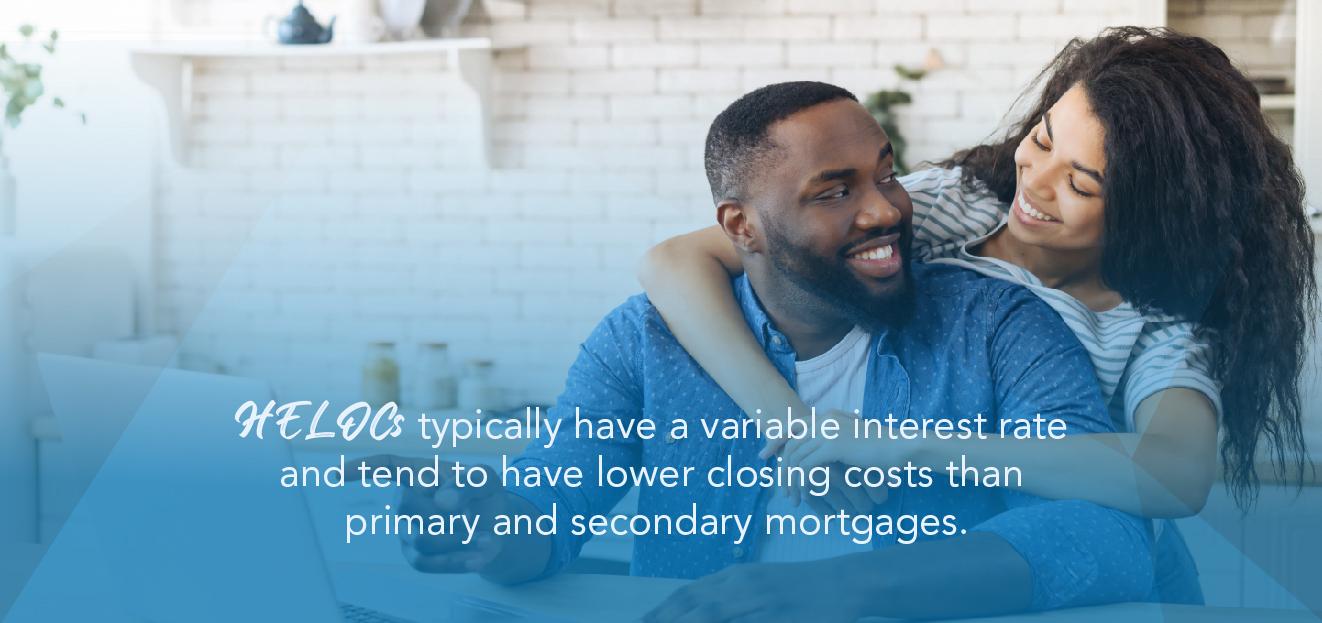 Benefits of a Home Equity Loan
Lower interest rate than using a personal loan or credit card
Fixed monthly payment may be easier to budget for
It May have a longer-term than a HELOC draw period
Interest may be tax-deductible (ask your tax advisor) if the loan is used to renovate your home
Benefits of a HELOC
Lower interest rate than using a personal loan or credit card
Funds are immediately available to access as needed
Borrow, pay it off, and use the line again as many times as you want during the draw period
Interest may be tax-deductible (ask your tax advisor) if funds are used to renovate your home
When To Use a Home Equity Loan
So, now you understand the differences between Home Equity Loans and HELOCs, but how do you know which one to choose? Here are the best situations for a home equity loan:
Major Home Remodeling Project: Use for payments to contractors, materials, and other associated renovation costs. Best used for big renovation projects like a major kitchen remodel, finishing a basement, or building an addition.
Medical Expenses: Use for planned or unplanned medical expenses such as surgery, rehab, ambulance ride, hospital stay, and more.
Education: Use it to cover tuition and other costs associated with private or secondary schooling and college.
Debt Consolidation: Pay off higher interest debt accounts such as an auto loan or credit card balances. Alternatively, you could also use a balance transfer credit card to consolidate other credit card accounts.
Other large expenses: If you need to finance any other upcoming significant expenses, you can apply for the exact amount with your home equity loan and borrow the money at an affordable interest rate. For example, you could take on a second mortgage on your primary residence to start a business or make a down payment on an investment or vacation home.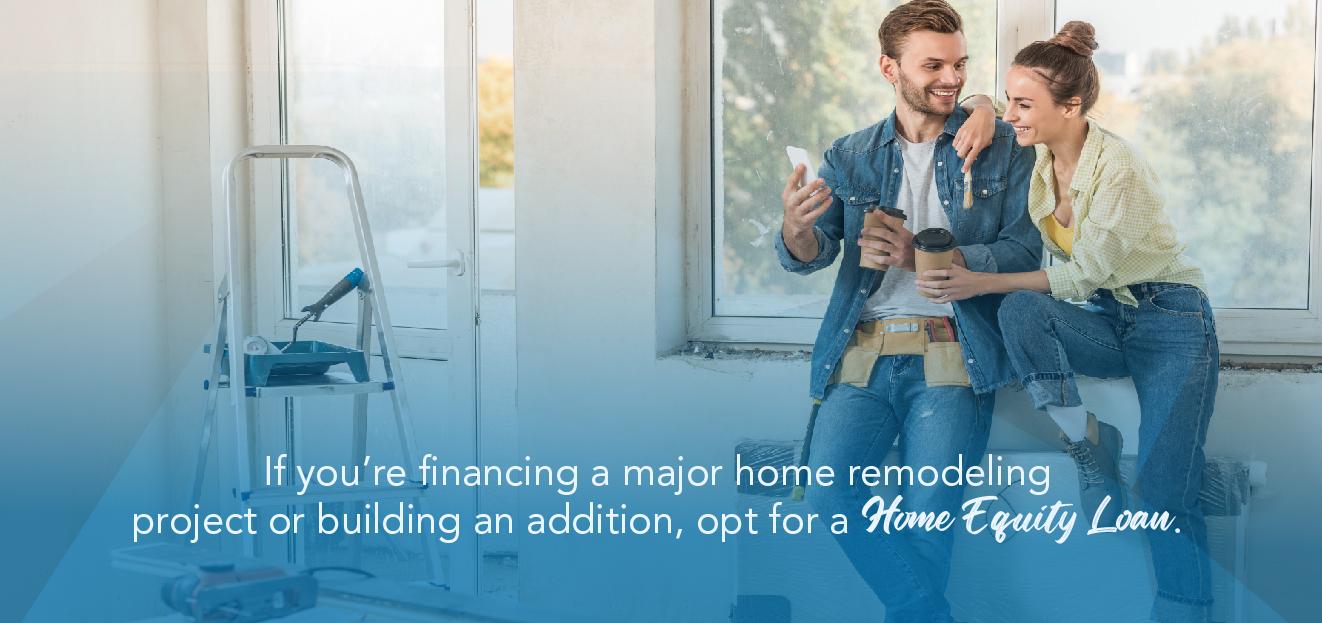 When To Use a HELOC
On the other hand, here are the best reasons to open a HELOC:
Home Improvements and Updates: Use for more minor home improvements such as new appliances, upgrading the HVAC systems, installing new flooring or windows, and other small projects.
Unexpected Expenses: Cover the costs of unexpected expenses like a large medical bill, car problems, or urgent home repairs.
Safety Net: If you don't have a large emergency fund, a HELOC can fill the gap in case of a job loss, reduced income, or other financial issues.
Debt Consolidation: HELOCs can also be used to pay off higher-interest debt, especially if you are looking to accomplish other goals with your credit line and hold on to it for the entire draw term.
Miscellaneous Financial Needs: Any other financial reasons such as the costs of buying/fixing/flipping an investment property or side businesses that may require you to purchase large amounts of inventory or funds to process orders and shipping costs.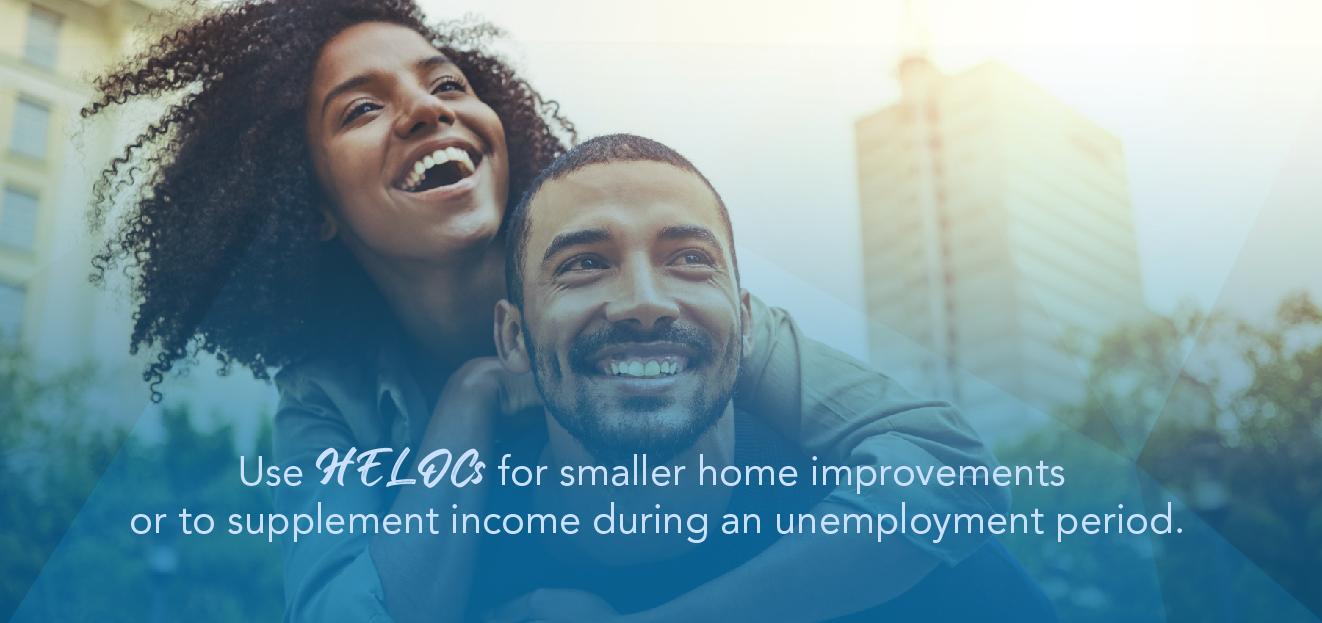 How to Apply for a HELOC or Home Equity Loan
You can apply online for a HELOC or Home Equity Loan. As with your primary mortgage application, you'll need to provide basic information such as proof of identity, proof of income, and more.
Loan-to-value (LTV) ratio
Your LTV ratio is a big factor in getting approved for a HELOC or Home Equity Loan. This can be calculated by dividing your total mortgage debt (current balance + how much you're applying for in HELOC or Home Equity Loan credit) divided by the current appraised value of your home. Generally, you'll need an 80% LTV because lenders like to leave a margin if real estate values fall.
Not sure if a HELOC or Home Equity Loan is the right option? Consider Mortgage Refinancing as an alternative that may let you convert some of the equity in your home to cash.
Apply online for a HELOC or Home Equity Loan from SkyOne!
Finance home renovations and improvements, consolidate debt, pay for tuition, and more with a HELOC or Home Equity Loan from SkyOne Federal Credit Union. Apply online today! Not a SkyOne member yet? Sign up here!